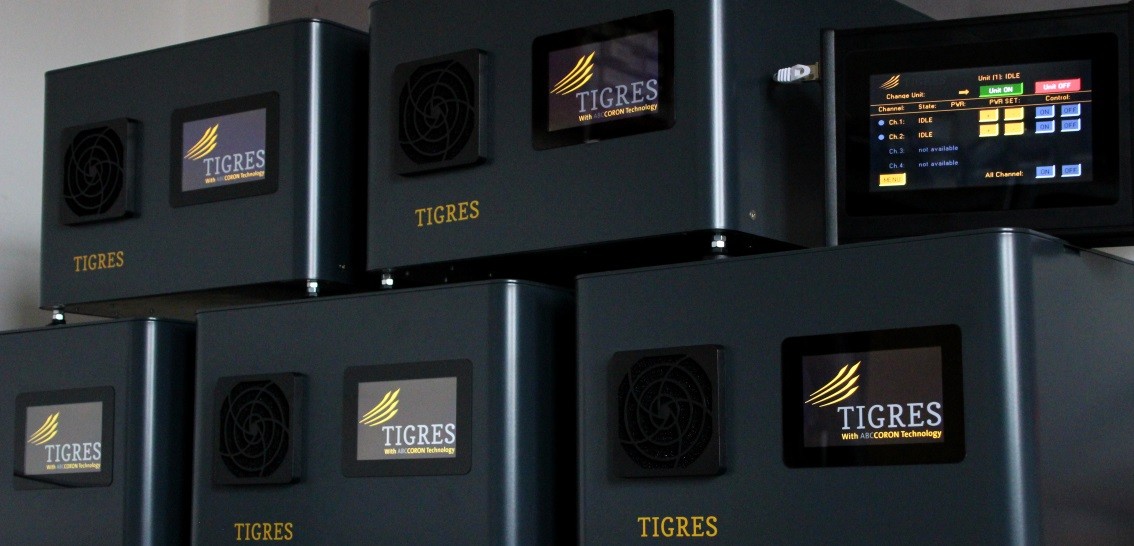 M-serien
The multi-channel generators of the TIGRES M series offer a modular system with maximum process reliability, great flexibility in a compact design.
Process security at the highest level:
Plasma pretreatment modules represent a key technology in automated production systems. Maximum system availability is essential for an efficient production process.
The TIGRES generators of the M series currently offer the most technologically advanced scope of services in terms of process safety and process monitoring in the field of plasma generators!
Separate power control for maximum system availability:
In many common multi-channel systems, the power to be delivered to the plasma nozzles is configured by manually setting control variables.
There is no regulation, in example no continuous adjustment, no feedback from the actual value to the target value.
The power is regulated channel-specificallywith the multi-channel systems of the TIGRES M series, which ensures that the system can dynamically compensate for fluctuations (i.e. mains voltage, process gas flow, electrode wear).
The performance of the individual plasma nozzles can be selected individually, even during operation.
Modular concept:
Networkability and central control of up to 16 generators with 4 channels each
Different plasma heads possible on one generator
Transparent system concept with implementation of the individual plasma systems as an autarkic subsystem with separate energy sources
Including channel-specific real-time monitoring with System Quality Index
Multi-channel plasma systems are usually designed as a series or parallel connection. Only one energy source is used for several plasma nozzles and the phase positions of the individual plasma discharges are synchronous.
That design has the major disadvantage that only the switching of the individual nozzles as a group can be monitored, not the individual nozzles. The optical monitoring of individual nozzles, which is sometimes used, is necessary because the underlying electrotechnical system concept does not allow individual nozzle monitoring and control.
For multi-channel systems of the TIGRES M series:

One energy source and separate control performed per plasma nozzle, with asynchronous phase position of the individual discharges
Inclusion of the SQI from the power control as a measure of the stability of the control loop for complete process monitoring
Data log with analysis functionality available for the most effective Toubleshooting
Compact design:
Extremely space-saving design compared to other multi-channel generators
Flexible connection:
I/O interface and various bus systems available
Easy integration:
Easily integrated into existing production lines, optionally also decentralized via an external HMI
Any number of generators of various plasma tools can be networked via one interface
This could also be interesting for you:
MultiSpot – the most compact design and scalable treatment width with full control:
The TIGRES Multispot System based on the M series generators is a modular plasma system with a scalable treatment width and full control of the individual nozzles.
Highest process reliability through the use of the M-Series technology: separate power control, real-time monitoring with system quality index, data log with analysis functionality
Flexible treatment width / plasma dose thanks to special nozzle holders for positioning the individual nozzles
Different heat input / effective depth through different nozzles:

Focus nozzles (25-50 W / mm) for high-performance pretreatment and high working depth
Slot nozzle attachments (12.5 – 25W / mm) for a wide, homogeneous pretreatment with minimal heat input for sensitive materials or pretreatment processes

Very easy to maintain thanks to plug & play assembly of the individual nozzles