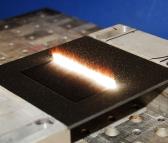 CFRP-reparation
Laser Based Repair For Cfrp Components
Contactless Machining and Pre-Treatment for Bonded Repair
A novel laser based method enables effective ply-by-ply removal and surface pretreatment of CFRP for structural bonded repair, e.g. for adhesive bonding of clips and clamps or structural stepped bonding. The mechanical strength properties realized in the process allow superior structural bonding behavior e.g. for aviation industries.
Features are:
Excellent cleaning and ablation results and speed
Enhanced bonding strength
Innovative robust diode-pumped laser technology
Very low running costs (generally 1-3 €/h)
No gas consumption, "Plug & Go"-technology
Flexible application due to portable technology
Maintenance free technology
High reliability, no "human error" factor, potential for automation & certificationECOLOGICAL EFFECTS
No abrasives, no chemicals
No waste except of removed CFAP plies
Low noise application
---
State of the art
The surface preparation of damaged areas on composite parts is today a lengthy, cumbersome and delicate process, taking into consideration the detailed processing requirements specified in the SRMs. This is due to the need for the achievement of very specific and sometimes complex geometries (i.e. gradually increasing in diameter stepping or scarfing of the damaged area etc.) on a very strong and brittle material, such as carbon epoxy composites. Such processing is today achieved by means of high performance drilling equipment, fit on special (usually diamond coated) toolings that allow for delicate operations on the damaged structure.
Due to the hard carbon fibers the expensive tools wear out very quickly, causing a nonreproducible surface quality. Therefore, the high fatigue requirements for a successful repair process are often difficult to meet. Grinding contaminates fibers and the fabric structures with abrasive dust, therefore bonding by a repair patch doesn't show high resistance. Resistance of CFRP components which are bonded using conventional methods decreases by up to more than 30% compared to the intrinsic fatigue resistance.
---
Our goal
… is to design a mobile, portable laser system for repair of CFRP components. One of the outstanding features of the innovative tool is its operational flexibility. The tool will be mountable on aircraft structures even in-field, which allows for repairs without disassembly of the part itself. Consequently, a faster, more reliable and fully automated composite repair method is possible for the aeronautical industry. In order to reduce the required area for the repair, the step width can be varied easily. Additionally, the new technology is environmentally friendly and easy to operate.
---
Process development
Parameter studies regarding removal in layers and pre-treatment of CFRP surfaces were completed. On the basis of these analysis the optimized and most appropriate parameters for CFRP repair were evaluated and selected. An adapted laser system and a corresponding machining optical system were designed. Both are suited for optimized surface preparation. Finally, the achieved outstanding results of the laser based technique were evaluated on real parts.
---
Current Results
CFRP components can be consistently prepared with the presented innovative laser based tool. Furthermore, significant improvement of bonding strength has been demonstrated.
CFRP plies can be selectively removed by means of laser radiation.
Cleared fibers are activated by means of high intensity. Hereby, a joint strength in bonding can be increased by up to 20%.
Surface quality is reproducible and can be generated automatically by means of adequate laser technology.
A fiber coupled laser handling system prototype was designed and created which can be applied for trialsof laser based repair.
---
EU-PROJEKT PLASER
Portable Laser system for surface preparation of composite repairs
The project "PLASER" was funded within the EUREKA-program of the European Union (reference number 01QE906). On the one hand the proximity of place French-German consortium of two SME's and one research institute enables efficient team coordination. On the other hand the experiences of the consortium in the fields of composite repair, portable laser systems and laser process development promise a suitable repair tool with the following main features:
Mobile laser system
Intelligent processing head
cuts cured boards and prepreg piles
Capability for automation and certification
Expected gain
time reduction up to 80%
cost reduction up to 60%
---
Project partner
Laser Zentrum Hannover (LZH)
LZH is one of Europe's leading institutes for laser technology. Its intention is to bring research and practical experience together.
GMI Aero Ltd.
GMI is as well manufacturer as technology leader regarding mechanical abrasive tools for repair of CFRP components.