Lågtrycksplasma
Low Pressure Plasma offers many versatile possibilities for surface modification. The fine cleaning of components, the plasma activation of plastic parts, the etching of PTFE or silicon and the coating of plastic parts with PTFE-like layers are just a few of the applications. The low pressure plasma is used in the most diverse ranges, where a better adhesion between materials or a change in surface property is desired.
With the low pressure plasma technology gas in the vacuum becomes excited by energy input.  High energy ions and electrons are developed along with other reactive particles, which form the plasma and surfaces can be changed effectively. There are three different low pressure plasma effects: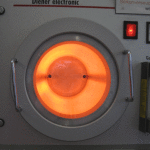 Microsandblasting: The surface is cleared away by ion bombardment.
Chemical Reaction: The ionized gas reacts chemically with the surface.
UV-Radiation: The UV-Radiation breaks open chains of carbon compounds.
Variation of the process parameters, such as pressure, power output, process time, and gas flow together can change the impact of the plasma.
Thus several effects can be obtained in a one process step.