Specialmaskiner
Kundanpassade specialmaskiner för ultraljudssvetsning speciellt för kunder inom fordonsindustrin.
Anläggningar för exempelvis fastsvetsningar av mindre detaljer förstärkningar etc. i större detaljer såsom stötfångare, instrumentpaneler, dörrsidor eller spoliers.
I detta fall en av maskinerna svetsar i 5 st mindre detaljer på baksida av en stötfångare med sammanlagt 78 st punkter med 40 st matningsenheter och 10 generatorer med en takttid på ca. 40 sekunder.
NC-axlar på skjutbord och svetsportal.
Ultraljud inbyggnadsenheter
Svetsenheten VE 35 och VE 20 är lämplig för inbyggnad i produktionslinjer och i specialmaskiner etc.
Den kan kompletteras med elektronisk vägmätning, mekaniskt stopp, givare för över/undre position samt även med hydrauliskt dämpare.
---
Sliding Table Machines

This concept offers clear advantages if there are one or more work areas and the loading area has to be kept free.
---
 Rotary Indexing Plate Machines

Rotary indexing plate machines enable several processes to be conducted in parallel. They are used where there is a need for very short cycle times.
---
Tool Cassette Machines

Tool cassette machines have the advantage that the toolsets can be exchanged as cassettes. They are therefore particularly suited for the production of smaller batches of several different designs.
---
 Robot Systems

Flexibility in production is achieved by state-of–the-art robot technology in conjunction with highly developed ultrasonic equipment.
---
Modular Punching Machines

As a pioneer in ultrasonic punching, SONOTRONIC is currently developing a new concept for processing bumpers, which will combine punching, cone stamping and joining. Parking sensor holders can optionally be glued into place or welded on by ultrasound. The new concept is extended by an intelligent holding system, which allows the workpiece to be removed from within a position. Overall it is not only the cycle time and capital investment costs that are reduced but the size of the special machines, in particular, is reduced by up to 50%.
---
Moving Top Platen Machines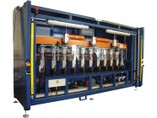 Moving top platen machines are ideal for applications where ultrasonic welding or punching can be executed in one single station. In moving top platen machines, the loading area is also the working area. The ultrasonic tools move vertically in the tooling bridge to weld the work pieces.
---
 Other Special Machines

SONOTRONIC taps the full potential of possibilities, from the simple ultrasonic welding machine to the highly complex, special designs in order to find the optimum solution for the customer's particular applications.
---
Ultrasonic Oscillating Equipment
SONOTRONIC develops individual ultrasonic oscillating equipment for different applications for incorporation in existing machine concepts. Solutions, such as our patented sonotrode table, optimise processes due to the advantages of ultrasonic technology.Since ultrasonic technology is applicable in numerous areas and sectors, SONOTRONIC also supplies ultrasonic oscillating equipment in addition to complete machines and installations. This equipment may be components into which ultrasonic converters are fitted. In most cases these components perform movements of their own, for example, as in the case of the actuators.
---
Hot Tool Machines

Hot tool machines with horizontal or vertical NC axis are suitable for welding large area joins or double shells made from thermoplastics.