Förpackningar

Plastsvetsning av förpackningar
Våra system och lösningar för försegling, svetsning, skärning och stansning av olika typer av förpackningar, såsom tuber, påsar, askar, kartong och blister med mera, bygger på högutvecklad ultraljudsteknik.
---

Enkelsidig rullsömsmodul
Den enkelsidiga rullsömsmodulen från Sonotronic är särskilt lämplig för kontinuerlig försegling, svetsning och skärning utan inverkan på förpackningen. Modulen kan integreras i befintliga och nyutvecklade maskinkoncept.
An ever expanding application for the continuous ultrasonic sealing method from SONOTRONIC lies in packaging technology.
Here ultrasonic roll seam technology is applied mainly in horizontal and vertical tubular bag machines. Bags with four sealed edges can also be produced by ultrasonic roller seam sealing.
Both the roll seam sonotrode and the anvil are driven in this process so that there is neither slip nor wave formation in the film. No relative movement is generated between the sealing wheel and film by the double drive either.
In addition to the proven roller seam sonotrodes mounted on both sides, SONOTRONIC has now also developed special unilaterally mounted roll seam sonotrodes. In the case of horizontal tubular bag machines the roll seam sonotrode with unilateral mounting can be assembled directly underneath the filled bag.
In addition to the well known advantages of ultrasonic sealing, such as tight sealing of wetted surfaces, optically attractive seams and consistent sealing results, ultrasonic roll seam technology is also characterised by further advantages. In continuous sealing, no thermal radiation is transmitted to the product, which is particularly advantageous in the case of heat-sensitive products such as chocolate.
Unlike thermal methods, ultrasonic technology also enables mono-films to be used because no heat insensitive outer layer need be laminated onto the film. Furthermore, very thin polymer films (15 μm) of high quality can also be sealed by the continuous ultrasonic method, which has not hitherto been successful with thermal sealing systems.
ADVANTAGES:
Continuous sealing seams
Tight sealing seams even on product wetted surfaces
No thermal radiation to damage the product or film
Assembly directly underneath the bag
Sealing of mono-films and very thin films (15 μm) possible
No slip or saving of the film
Use in VFFS and HFFS machines and for bags with four sealed edges
Environmentally friendly and energysaving
TECHNICAL DATA:
| | |
| --- | --- |
| Welding width [mm] | 2 – 9 |
| Max. welding force [N] | 250 |
| Max. speed [m/min] | 80 |
| Frequency [kHz] | 35 |
| Power of the generator [W] | 400 |
| Max. air pressure [bars] | 6 |
| Electrical connected loads of the drive [V] / [A] | 230 / 4 |
| Dimensions of the module W x H x T [mm] | 250 x 428 x 127 |
Subject to alterations.
---

Ultraljudshuvud för toppförsegling KSE 250-100
Sonotronic erbjuder nu också en mekanisk förseglingstång med ultraljudskomponenter för fri toppförsegling av stående och plana påsar.
PNEUMATIC FEATURES
The KSE 250-100 head sealing unit has been specially adapted for the mechanical requirements of an ultrasonic sealing system. As a closed all-in system the head sealing unit can easily be integrated into existing or new bag filling systems, thus enabling manufacturers of packaging machines to convert to sustainable ultrasonic technology with one complete solution and use the whole spectrum of advantages ultrasonic technology provides.
NO DISTURBING CONTOURS IN THE SEALING AREA
In order to meet the parallelism requirements the ultrasonic system and the sealing anvil are mounted on a common continuous guidance system. This guidance system is arranged in a second plane above the tools so that the sealing area is completely free of additional disturbing contours.
MAXIMUM SEALING WIDTH
Because of the two-plane design the width of the mechanical sealing tongs is also equal to the maximum sealing width. In addition, the main body of the tongs has been designed specifically to meet the requirements regarding bending strength and guidance accuracy of an ultrasonic sealing system.
CUSTOMER-SPECIFIC ADAPTATIONS
The maximum stroke, speed profile and retention time of the head sealing unit can be freely reduced to the specific requirements by means of the servo drive. The servo drive itself is mounted in the vertical axis above the guidance system. The servo drive is coupled to the guidance system by means of crank mechanics with automatic tumbler in the sealing position. The head sealing unit can be mounted customer-specifically, for example over the guide rails at the top or bottom, or is also available with a stand foot housing integrating the servo control.
ADVANTAGES
Ultrasonic tools and sealing tongs in one unit
Modular sonotrodes in 20, 30 or 35 kHz technology can be used
Common guidance system comprising the oscillating structure and anvil
Sealing strength specifically adjustable
Disturbing contours above tool level (not in the sealing area)
Speed profile, stroke and retention time-specifically adjustable
High guidance accuracy by means of recirculating roller guide
High sealing forces to avoid film displacement in the sealing process
Equipped with customer-specific servo drives
TECHNICAL DATA
| | |
| --- | --- |
| Maximum sealing width [mm] | 250 |
| Max. stroke [mm] | 2 x 50 |
| Max. closing force [N] | 2.000 |
| Number of cycles (cycles/min) at max. stroke | 50 |
| Max. air pressure [bars] | 6 |
| Electrical connected loads | 3 x 400 V+N+PE 50 Hz |
| Reach on anvil side [mm] | 95 |
| Reach of sonotrode side [mm] at 35 kHz | 336 |
| Dimensions of sealing tongs W x H x T [mm] | 250 x 800 x 186 |
| Sealing tong housing WxHxT [mm] | 250 x 800 x 700 |
Subject to alterations.
---

Tubförseglingsenhet TSE
Den helt nyutvecklade tubförseglingsenheten TSE förseglar ändarna av tuben säkert och tätt med ultraljud.
Tubes and complex laminate structures can be tightly welded or sealed with the individually adapted tool contours of the tube sealing unit. The highly compact, slim unit can easily be aligned with a module package for multi-web presslines.
ADVANTAGES
35 kHz ultrasonic technology
Ultrasonic tools and sealers in one unit
Complete system for integration in bottler lines
Continuous guide system for vibrator structure and anvil
Plane-parallel system of sonotrode and anvil
Sealing strength adjustable between 50 – 430 N
Interfering contours above tool level (not in the seal area)
Optional fixed stop
TECHNICAL DATA
| | |
| --- | --- |
| Max. sealing width [mm] | 90 |
| Max. stroke [mm] | 2 x 30 |
| Max. closing force [N] | 430 |
| Number of cycles [cycles/min] at max. stroke | 12 |
| Max. air pressure [bar] | 6 |
| Reach on anvil side [mm] | 164 |
| Reach on sonotrode side [mm] at 35 kHz | 456 |
| Dimensions of sealing tongs W x H x D [mm] | 90 x 240 x 620 |
Subject to alterations.
---

Ultraljudsförseglingssystem för slangformiga påsar
Det nya ultraljudsförseglingssystemet för vertikala (VFFS) och horisontella (HFFS) slangformiga påsar är en innovation inom förpackningsteknik. Systemet levererar helt täta svetssömmar och är extremt material- och energieffektiv.
The cold tools press the tubular bag together for sealing. The ultrasonic oscillations of the sonotrodes then cause the molecular chains in the sealing area to break open with formation of heat and new joints to be formed. In a very short time, excellent quality seal seams are produced.
Production faults are drastically reduced with the use of ultrasound, because the contents themselves are not heated. Also, the contents to be found in the seal area are separated by the ultrasonic effect during the sealing process. The quality of the seam produced and the barrier layers of the bag film are not affected.
ADVANTAGES:
Consistent sealing results of outstanding quality
No distortion of the seals (hot-tack)
Expandable seam widths as a result of modular sonotrode systems
Reduced film consumption
Narrow sealing seams (down to < 1 mm possible)
Tight sealing of very thin films, even when they are in contact with contents
No destruction of barrier layers
Far fewer production faults
Reduced maintenance costs
Can be used in vertical (VFFS) and horizontal (HFFS) tubular bag machines

The ultrasonic sealing system for tubular bags has been successfully used for years with our partner GEA Food Solutions in VFFS machines.
---

Ultraljudssystem för blisterförpackningar, brickor, tråg och koppar
Med det patenterade, modulära sonotrodbordet kan blisterförpackningar, brickor, tråg eller koppar förseglas och stansas i ett steg. Detta gör att efterföljande stansmaskiner inte behövs och förpackningsprocessen blir kortare.
PACKAGING THAT IS NOT DEPENDENT ON FORMAT
Because the sonotrodes, which emit the ultrasound, are arranged in one level welding area, the sonotrode table can be used irrespective of format. It is sufficient simply to change the anvil plate or the receiving tool to change the packaging format. This results in great flexibility of packaging design.
ADVANTAGES:
Modular system
Free formatting
Combined sealing and punching
Clean, non-sharp punched edges
Rapid tool change
Long tool life
Sealing and punching quality that can be validated
PACKAGING THAT IS DEPENDENT ON FORMAT
For format-dependent packaging solutions with ultrasound, we not only adjust the receiving tools to the packed goods but also the sonotrodes themselves. Depending on application, sealing and punching tasks are also combined in this case.
ADVANTAGES:
Format-dependent, customised and application-specific tools
Considerable experience in tool design
Own tool manufacture
Subject to alterations.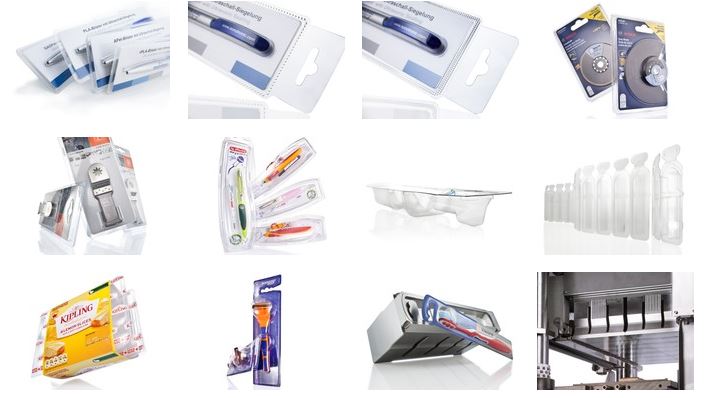 ---

Ultraljudsförseglingssystem för påsar
Ultraljudssystemen används bland annat för att försegla prefabricerade, ståpåsar och plana påsar.
However, various special formats are not only sealed but also punched or cut to size with ultrasound. Zips or valves can also be incorporated at the same time.
The main advantage of ultrasound compared with other technologies is that the bags can be sealed absolutely tightly even when the sealing area is in contact with the contents. Mechanical pre-pressing by the cold sealing tools and the subsequent ultrasound effect force the contents out of the sealing area. The flavour of the product is not changed.
ADVANTAGES:
Tight seams even in sealing areas in contact with product
The taste of the contents is not affected
Application-adapted systems
Subject to alterations.

---

Ultraljudssvetssystem för kartonger
Ultraljudssvetssystemen SONOTRONIC är lämpliga för kartonger som är belagda med en svetsbar yta.
In drinks cartons this coating is usually made from PE. The closures, which are likewise made from PE, are tightly welded to the sealing layer of the carton by ultrasound.
A further application of cartons is welding to blister trays. The layer on the carton must be adapted to the material of the blister. The transparent blisters, which are usually deep-drawn from PET, show the product to its best advantage whilst the welded on carton serves to provide product information.
In order to comply with the special production requirements of food packaging, our ultrasonic system complies with the IP68 safety standard. For the welding tools we use titanium.
ADVANTAGES:
Welding coated cartons
Cold welding components of titanium
Subject to alterations.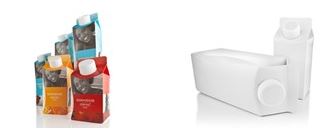 ---

Samtidig ultraljudsskärning och försegling
Skär- och förseglingsprocess med ultraljud används överallt där det är viktigt att försegla kanterna när de skärs eller för att göra processen effektivare genom att kombinera de två stegen och undvika efterföljande stansning.
The ultrasonic Cut&Seal process is used everywhere, where it is important to seal edges as they are being cut or in order to make a process more efficient by combining the two steps and avoiding subsequent punching. For example, in the packaging industry, the sonotrode table is used, with which blisters, trays or cups can be sealed and punched out in one step.
Cut&Seal is used in the textile industry when welding elastic and non-elastic thermoplastic textiles continuously using the roll seam module or intermittently using upright sonotrodes. The main advantage of ultrasonic Cut&Seal is that the edges are already sealed during cutting, thus preventing subsequent fraying.
ADVANTAGES:
Combined welding and cutting or sealing and punching of

Films and packaging, even if they are contaminated in the sealing zone
Elastic and non-elastic synthetic textiles

Rapid and reduced process times with good process reliability
Joining and trimming several layers in one process
No subsequent punching equipment needed
Reproducible welding and punching quality
Complete monitoring of the process parameters during production
Flexible weld design
Minimum weld projections
Punching edges that are not sharp and are solid and free of lint
Environmentally friendly technology

Low energy requirement and hence faster cycle times
No solvents and additives required for welding
Type-specific recycling of welded workpieces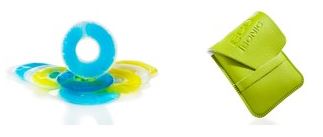 ---

Ultraljudsskärning av livsmedel
Oavsett om det gäller stora industriella bagerier, i konfekttillverkning eller osttillverkning – vår ultraljudsskärteknik är mångsidig i olika applikationer. 
Ultraljud lämpar sig speciellt väl för skärning av spröda, mjuka eller krämiga produkter. Tack vare ultraljudstekniken uppstår ingen deformering av produkten. Således kan även mycket tunna skivor kan kapas. Ultraljudet ger upphov till minimal ytfriktionen och säkerställer rena snitt utan att produkten fastnar på skärverktyget, eller i minimal utsträckning.
Bakery products containing cream or sugary layers, as well as other dough or fat-containing foods, can be cut or trimmed in a controlled way by ultrasound to produce a quality that is visually appealing. The cutting geometries of the tools for longitudinal or cross cuts are individually tailored to product requirements.
As a result of ultrasonic vibrations, only slight product residues remain adhered to the sonotrode, so that to a certain extent, it demonstrates a self-cleaning action.
Because of the ultrasonic vibrations, cutting sonotrodes work with a lower initial pressure than conventional cutters. At the same time, sonotrode wear is less and the cutting quality is considerably better. In addition, the use of ultrasonic cutting systems has a positive effect on the maintenance and down times of the equipment.
Advantages:
Pleasing cut and form stability
Product-specific cutting geometries
Cutting sonotrodes with little product adhesion and self-cleaning action
Reduction in maintenance and down times
Products cut almost irrespective of consistency
Subject to alterations.