Om ACP
acp – advanced clean production GmbH
acp advanced clean production GmbH was founded in Stuttgart, Germany, formed by the Fraunhofer Society of Manufacturing Engineering and Automation (FhG-IPA) in 1997. Through the business transition of contrade GmbH in March 2008 with all its expertise acp GmbH now has an over 30 years experience in Mechanical Engineering in the area of Semiconductor Industries.
The history of former contrade GmbH goes back to the year 1968, the founding year of the CONVAC GmbH. Herefrom contrade GmbH was established in 1995.acp GmbH develops and produces innovative and efficient high tech Cleaning Systems, Coating Systems as well as Cleanliness Inspection Devices for technical surfaces.Through the acquisition of contrade the portfolio of acp includes the development and manufacturing of processing-facilities for the field of Cleaning and Coating of wafers and masks, Develop, Etch, Strip and Metal Lift-Off in Spin- or Tank- Processes for Semiconductor- and related Industries. Wet-Chemical Processes emphasize the processing of single substrates. In the course of increasing requirements that go along with even smaller sub-micron structures in the Semiconductor Industry this key technology has gained importance.
The innovative technology of the patented acp CO2-Snow Jet Cleaning provides a dry, environmentally friendly, free of residues and solvents cleaning down to the nanoscale which is flexible and gentle.Moreover the acp GmbH provides Wet-Chemical Processes which also includes extensive cleaning technologies. In this context we implement all sorts of processes that may include the handling of single substrates such as for example wafers, photo masks and glasses. Through a patented roll technology large planar technical surfaces can be cleaned or coated with thin films.
With the technology Surface Inspection acp offers a systems to directly detect particles and film like deposits. The offered Inspection solutions provide high resolution Surface Inspection by the patented streaking light technology.
We supply our customers with technological knowhow ranging from the preliminary testing of new applications, investigating and realizing specific solutions right up to providing after-sales support.
Today acp is a provider of the newest process technologies. The clientele includes the Automotive Industry, the Electronic Industry as well as the Solar Industry, Optics and Medical Industry, as well as Precision Micro- and Nano Technology.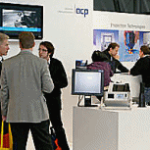 Research results and research investigations can easily be converted through our close cooperation with the Fraunhofer Society into market-driven products.